#TravelTuesday: I've visited Tokyo before when I was very young, but I don't remember anything about it. Being a big manga/anime fan, I would really like to go once more.
In my mind, Japan is a strange and wonderful place (kind of like the world of Internet). Anything seems to go in this country, from ultra kawaii to random and absurd. The stories in the mangas I read blow my mind- like how do Japanese people come up with this stuff?
A list of just some of the things I would like to do in Japan:
1. Visit a temple/shrine and take a photo of the torii
My amateur photography nerves tingle at the thought of being able to capture the beautiful red entrance of Japanese shrines.
Kyoto has thousands of temples and shrines, but Tokyo should also have a few as well.
2. Hold a cherry blossom picnic
Ah, cherry blossoms make me think of 5cm Per Second, which is one of my favourite animation films of all time.
Just imagining all the pink everywhere makes me happy.
3. Stay at a Ryokan
A Ryokan is a traditional Japanese inn- the ones that look like the ones from Spirited Away. They come with tatami floored rooms, futons, prepared meals, onsens (sometimes! See #10), and more.
4. Eat!
Oh boy, I love Japanese food in Vancouver already so to go to Japan and eat authentic Japanese food… I'm drooling already. Some of the things I must try are: sushi (revolving), okonimiyaki, ramen, soba, takoyaki, tonkatsu, donburi, mochi, and dango.
5. Shop in Akihabara, Shibuya, and Ginza (Tokyo)
Well, I doubt I'd be able to afford anything from Ginza, but I can always pretend.
All three are major urban shopping distrcits, although Akihabara is known to sell electric goods and Shibuya is known for fashion.
6. Wear a kimono and take a tea ceremony class
The art of tea ceremony is not something I can master with one class, but it'd be cool to learn it for a little while. I also want to try wearing a traditional kimono and see what I look like in it. In my opinion, traditional Japanese clothing is more beautiful than Chinese or Korean.
7. Go to an anime convention
Cosplay is only cool if you go all out and actually look like the characters. With anime being aired on major TV channels in Japan, there are many people who are into cosplay and consequently, many people who do it well.
8. Hike Mt. Takao/Mitake/Nikko (Tokyo)
So unfortunately, Mount Fuji is not a possibility due to my lack of physical capabilities. Mount Takao, Mitake, and Nikko are appropriate for young children so any one of them should be fine.
9. Go to a maid cafe and order an omurice
"Omurice" is an omelette rice. Why not try having one decorated with ketchup by a maid? This is just one of those "But you gotta" things.
No cats though, please.
10. Try a hot spring
My only experience that comes close is Harrison Hot Springs or sitting in my friend's hot tub when it started snowing. Hopefully no random monkeys come.
11. Visit the One Piece theme park (Tokyo)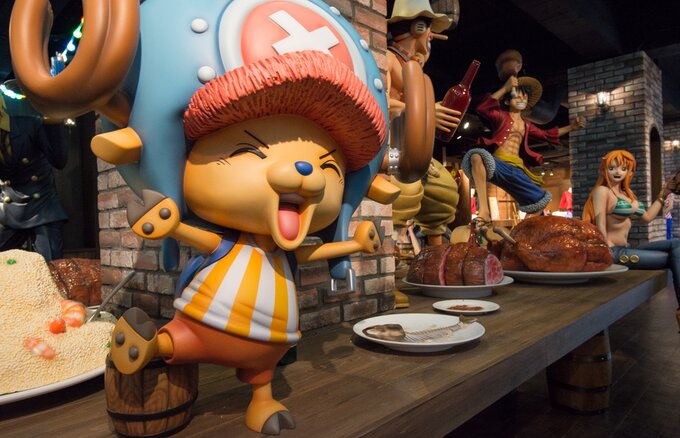 I. Must. Go.
12. Buy a beer from a vending machine
Because apparently they are cool with you drinking anywhere.
Anything else cool I've missed?
 Sincerely, Loewe